View All Products Shopping Bag
3 Pack Deal - The Hogan Code, My Driving Evolution, & Mr. Hogan (Digital Downloads)
ALL3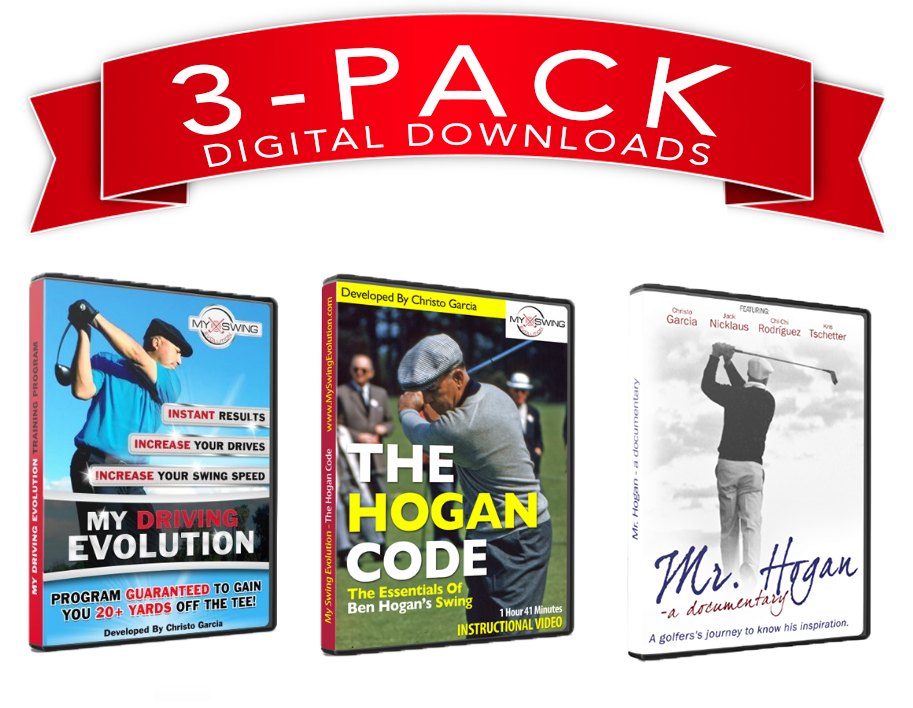 GET ALL 3 FOR LESS!
The Hogan Code, My Driving Evolution, & Mr. Hogan
MY DRIVING EVOLUTION
Learn Christo's proven method of increasing your swing speed and hitting longer drives. Users have reported adding over 20 yards to their drives and increasing their swing speed by 21 mph in only the 2nd training session.
Special Features Include: Fitness Workout and Nutrition Information.
---
THE HOGAN CODE
---
MR. HOGAN - A Documentary
Mr. Hogan is a documentary that chronicles the adventures of Christo Garcia as he rebuilds his swing from scratch and learns to swing like his idol, Ben Hogan. Christo travels across America, seeking out the people and the places that can give a full measure of the man they called "The Hawk." The film features appearances by Kris Tschetter, Jody Vasquez, Chi Chi Rodriguez, and Jack Nicklaus.
You should consult your physician or other health care professional before starting this or any other fitness / sports program to determine if it is right for your needs. This is particularly true if you (or your family) have a history of high blood pressure or heart disease, or if you have ever experienced chest pain when exercising or have experienced chest pain in the past month when not engaged in physical activity, smoke, have high cholesterol, are obese, or have a bone or joint problem that could be made worse by a change in physical activity. Do not participate in this program or activity if your physician or health care provider advises against it. If you experience faintness, dizziness, pain or shortness of breath at any time while participating, you should stop immediately.

If you are in the United States and think you are having a medical or health emergency, call your health care professional, or 911, immediately.